Santa Grotto Mini Christmas Photoshoots
Don't tell Santa, but when he's not here
you can ask us to take your Christmas photos in his Grotto !
From 1st December through until Christmas Eve, whenever Santa isn't here in the special Photo Grotto we have built for him, you can come along with your family, your friends, your work colleagues - yes, even your pets - pop on some Santa Hats and partywear, and have a mini Christmas Photoshoot right here in his Grotto !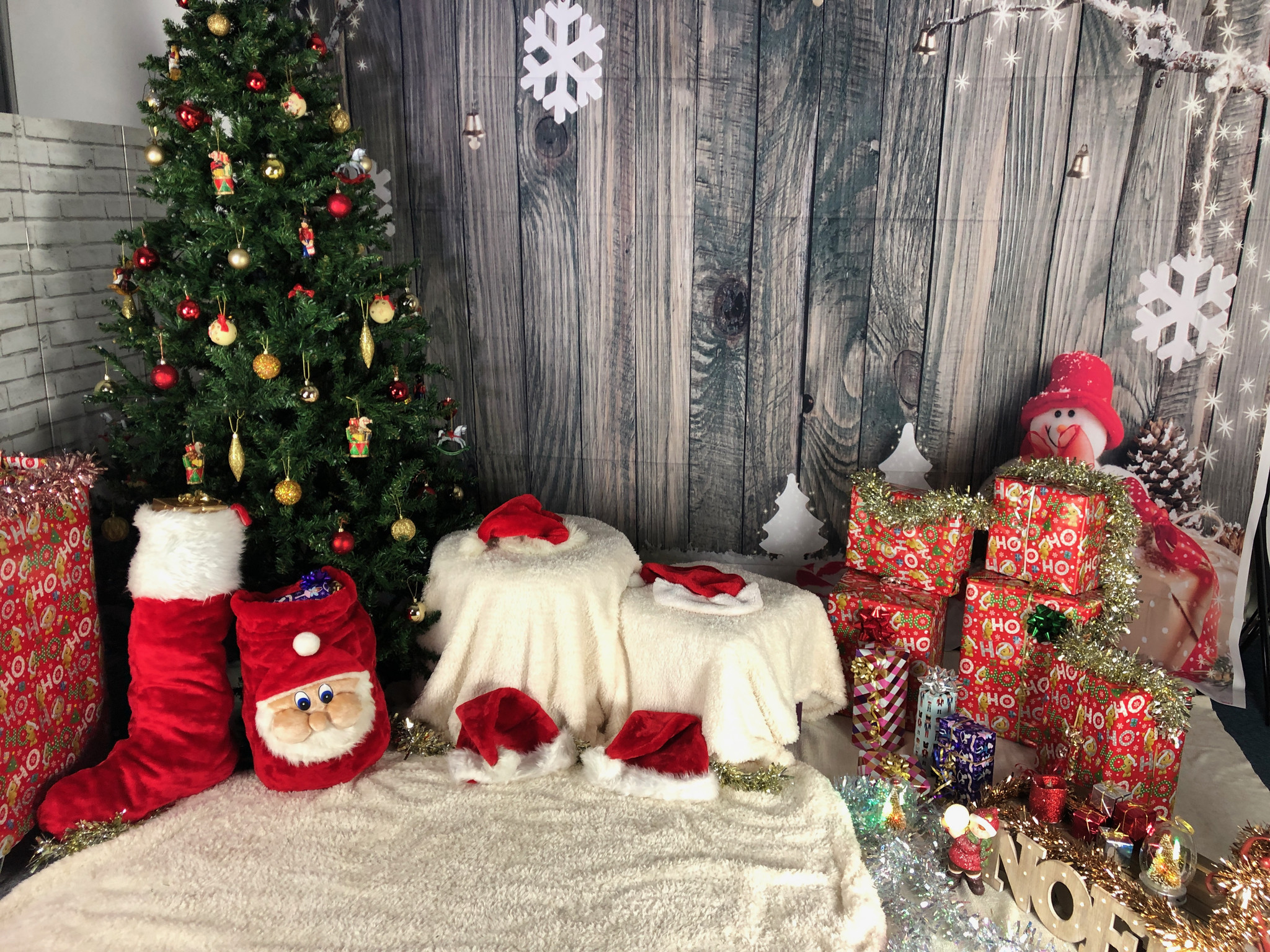 Each photoshoot session lasts 30 mins and costs  £19.95  including EITHER
 - six photos in Christmas Greetings Cards with envelopes, OR
 - one 12x8in / A4 print from your choice of photos at the shoot with special discounts on our range of Christmas-themed frames, tree baubles and other gift ideas for your photos
 - PLUS you can order additional prints or buy the digital copies of your photos, of course !
To book, call us on 01869 368183, or email [email protected] with your preferred date and time as below
IF YOU CANNOT MAKE THESE DATES & TIMES, OTHER DATES AND TIMES (Monday - Wednesday, and some evenings) MAY BE AVAILABLE ON REQUEST, PLEASE CALL US TO CONFIRM
| | | |
| --- | --- | --- |
| BLACK = Available | AMBER - Pending | RED - Booked |
DECEMBER 2023
| | | | | |
| --- | --- | --- | --- | --- |
| Fri 1st | 10am | 10.30 | 11 | 11.30 BOOKED |
| Sat 2nd | 10am | 10.30 | 11 BOOKED | 11.30 |
|   |   |   |   |   |
| Mon 4th | 10am | 10.30 | 11 BOOKED | 11.30 BOOKED |
| Tue 5th | 10am | 10.30 | 11 | 11.30 |
| Wed 6th | 10am | 10.30 | 11 | 11.30 |
| Thu 7th | 10am | 10.30 | 11 | 11.30 |
| Fri 8th | 10am | 10.30 BOOKED | 11 | 11.30 |
| Sat 9th | 10am | 10.30 | 11 | 11.30 |
|   |   |   |   |   |
| Thu 14th | 10am | 10.30 | 11 | 11.30 |
| Fri 15th | 10am | 10.30 | 11 | 11.30 |
| Sat 16th | 10am | 10.30 BOOKED | 11 BOOKED | 11.30 BOOKED |
|   |   |   |   |   |
| Thu 21st | 10am | 10.30 | 11 | 11.30 BOOKED |
| Fri 22nd | 10am | 10.30 | 11 | 11.30 |
| Sat 23rd | 10am | 10.30 | 11 | 11.30 |